April 30, 2017 – By Anne Watkins Tyson, IMC '19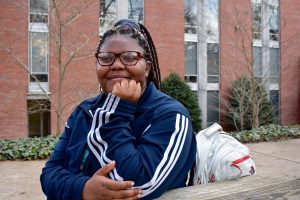 "I'm known as the bee girl. I just love bees," Jessica Cole describes. Since starting at the University of Mississippi in the fall of 2015, she has discovered her passion for bees, science, research and teaching.
Jessica has always been drawn to science. She reminisces, "Science was always my love. And, you never forget your first."
Cole is a Biology major with a Professional Writing minor. She discusses why she has always loved science while sitting on a picnic table outside of what has become her Ole Miss home, Hume Hall. She describes her field as attractive because you're always learning something new.
Although Cole attended the Mississippi School of the Arts her junior and senior year of high school, living away from her hometown of Meridian, Mississippi, she figured that it would be an adjustment entering the University of Mississippi and transitioning from her high school major in Theatre to a major focused on science.
Cole credits the Grove Scholars and FASTrack programs with helping her integrate into the cohort lifestyle she wanted and needed in college.
"Even if we [Grove Scholars] don't have the same major, we're all tracking together during our time in school. We learn a whole lot from each other by talking about similarities and classes and life," Cole says. When Ms. Cole is not interacting with her fellow Grove Scholars, she is serving her fellow students at writing consulting at the University of Mississippi Writing Center.
Gray Flora, Director of Grove Scholars, helped Cole find her niche at Ole Miss. She believes that if it were not for him, she would not be this path that makes her so excited and passionate about learning, researching and exploring a future in science. When asked what Grove Scholars means to her, Cole answers, "It means having someone who actually cares about my future. It is being able to communicate with like-minded people who care." Her advisers help to make sure she is on track to graduate, but the Grove Scholars' staff cares about all she wants to do and accomplish, even after graduation. "It's awesome. Even if you're awkward like me, Gray Flora looks out for me and connects me with the right people to talk to about anything and everything."
Beginning in the Fall of 2018, Cole will attend the University of Vermont to pursue her PhD in Biology. "I'm going to grad school for bees," she exclaims. "I really don't think anyone ever feels prepared for grad school; yet, I know that I have all the tools I need now, to start grad school. I just won't know how I'll be using them until I get there."
When asked what her dream job is, there is not a breath before she answers. She wants to be a professor at a university and have her own bee research lab. "That's the dream," she smiles.
"I want to make a difference in at least one student's life in realizing her or his path. I want to help someone find their way because I am so happy now that I've found my way."