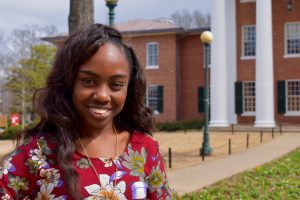 — By Anne Watkins Tyson, IMC '19
"When I first got to Ole Miss, I was unsure. But, now I can't imagine myself anywhere else."
Janeisha Simpson, a senior from Lexington, Mississippi, is thankful to be a student at the University of Mississippi where she can be a part of the Grove Scholars program.
She began her studies as a Biology major, but she is now a Psychology and Nursing major. "Psychology is just more interesting to me," she remarks over coffee in a campus café. She loves interacting with people, especially kids, and wants to do this everyday as a career.
Janeisha remembers telling her parents she knows she wants to work with kids. This desire was confirmed in a developmental psychology course at Ole Miss. "It is what made me fall in love with my major. It was all about children and their brains," she says. "When they are so young, you get to know them, help them and have an effect on how they grow up."
After Janeisha's college application was received by the previous director of Grove Scholars, she received a call asking if she was interested in summer school.
She smiles at her coffee as she remembers her answer, "Sure, why not?"
The summer before her college career began, she was honored to meet the Grove Scholars, old and new, learn the background of the program and become acclimated with the community that would soon become her biggest supporters.
The Grove Scholars were encouarged to think of themselves as trees in the grove on campus. Once one tree has grown, you want to plant another tree. And then, you want to show that tree how to grow. "The upperclassmen have all been here for us. Now, we want to pass the motivation and the encouragement to the younger people in the program," Janeisha says. Just like her heart for molding children into the best they can be, she has a heart for leading those younger than her in the program.
At first, Janeisha planned on going to a community college after graduating from her high school, Holmes County Central High School. But that changed when she came to a visitor day on the UM campus. She was smitten and has not looked back.
"I am so happy that I chose Ole Miss, but I am happier that Ole Miss chose me."
Along with Grove Scholars, Janeisha also has leadership roles and involvement across campus. She belongs to the University of Mississippi Minority Association of Pre-Medical Students, I.Team, College Corps, Black Student Union and is on on the executive board of Esteem. When she first got to Ole Miss, Janeisha reflects that she was painfully shy. "Grove Scholars, though, opens you up because it brings you around people who are interested in fields like you, yet we're all different. It has opened me up to many different avenues. I have gotten to make so many different connections through all of my fellow Grove Scholars."
When asked about what her biggest takeaway from Grove Scholars is, she answers that "we're just one big family."
Janeisha describes the fellowship of Grove Scholars by painting a picture of their meetings. They share news about their community, what is going on in their lives, what is going on across campus and pieces of advice. In these meetings, the Grove Scholars are also encouraged in their endeavors by Gray Flora, the Director of the program, and by different speakers who are involved in their STEM and health-related professions.
"These skills and things that we are learning are not just for our classes. We are being pushed to go out and to follow our dreams. We are constantly motivated as Grove Scholars… Looking back, I really don't know how it happened. But, I am so grateful that I am a part of the Grove Scholars program."